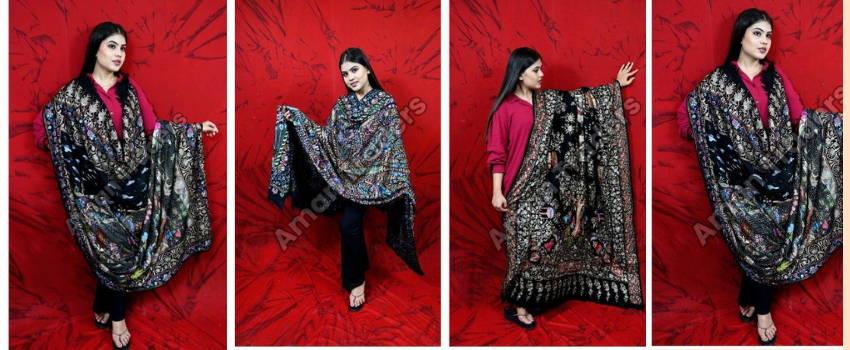 A shawl is a unique garment loosely worn on the upper body. Many people use a shawl to cover their heads. A shawl is usually a rectangular or square piece. Many shawls have an irregular shape that looks classy and unique. Wool and cotton are the two common materials for making a shawl. It is very unique and effective.
The Kashmiri shawl is famous for its unique weaving technique, and it is famous worldwide. The Kashmiri shawl pashmina is famous for its warmth and lightweight features. Authentic Resham or pashmina shawl should be soft enough. Even authentic Resham shawl suppliers in India provide original Resham shawls.
The Uniqueness of Resham Shawl
Resham shawls are very smooth, the light fabric usually made of silkworm cocoons fibers. Unlike many synthetic fibers, it has a soft texture that is not slippery. Silk is one of the most vital nature fibers. Silk is one of the most potent natural fibers, but it loses up to 20% of its strength when wet. It has a good moisture regain of 11%. Its elasticity is moderate to poor.
If elongated even a small amount, it remains stretched. In lukewarm water, silk is best washed with mild detergents, such as draft. Rinse well, squeeze out surplus moisture by rolling in a towel and hang to dry. Try to choose a light colour Resham shawl, such as pink, magenta, green, purple, or baby pink. It looks stylish and beautiful.
Reasons for Buying Resham Shawls
The significant reasons for buying Resham shawls from authentic Resham shawl suppliers are as follows-
1. A stunning Resham shawl is a real option of elegance, tradition, and grace. The combination of size and pashmina is riches to own. A typical example of charm, beauty, and sophistication is ready to turn heads when worn at any event.
2. To create a unique style statement in winter, you should choose exclusive Resham shawls. The unique range of Gresham shawls is perfect for all age groups.
3. Professional shawl designer creates unique designs of pashmina shawls. Professional shawl designers use the finest quality pashmina wool for making pashmina shawls.
Expert weavers use unique and diverse colours for making Resham shawls. Authentic Resham shawls carry a label.
4. Pashmina shawls have unmatched grace and border to create a unique looking. You can wear the Resham shawl with any dress to show your style statement. In addition, you can get unique motifs and embroidery in the designer Resham shawl.
Cleaning Process of Resham Shawl
Resham shawl requires dry cleaning. Try to keep the Resham shawls to sunlight once in 4 to 5 months when you are not using the Resham shawl. Use neem leaves with the shawl to store the Resham shawl for a long time. Each Embroidered Resham shawl is unique and elegant. An authentic Resham shawl should be lightweight and last for a long time.
You can search various online portals to choose authentic Resham shawl suppliers that will help you choose the best quality at an affordable price.